Zumba for Mixed Fitness Abilities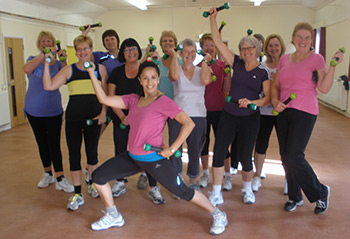 Zumba Dance Classes
held at
Drayton Centre, 238 Havant Road,PO6 2AP (next to Coffee Lounge).
Workouts to the following dance styles, Cumbia, Salsa, Merengue, Samba, Mambo, Hip hop, Bollywood, Cha cha cha, Reggaeton, Belly dance and Tango.
Day/Time
Type
Rates
Mondays 10.00am

Zumba Dance & Tone Mixed Fitness Abilities
Very Light Zumba
Toning Sticks (optional).
(6 Zumba classes £36.00, run term times) A new client can trial a class at any point.
Classes run term time (Over Summer July/August months a skeleton mixed ability Zumba class Mondays may run).
No classes run (Bank Holiday Mondays).
To check what dates Zumba classes are running including Pilates & Tai Chi please click course & information (tab top of page).
Please click contact tab above for further enquiries or click the Timetable / Fees tab for course dates, new classes and Pilates workshops.